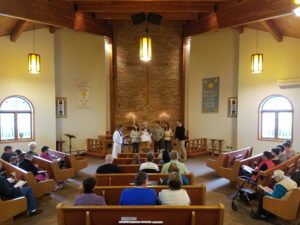 Worship from Sunday November 22, 2020
Online Worship
Sundays at 10:00am
Online Worship at:
https://www.facebook.com/oursaviourssebeka/
Through month of November, we have decided to move worship back online as a way of staying safe and doing what we can to help out our hospitals and schools. It'll be a little different than our online worship this spring. Here's our plan.
We'll broadcast worship every Sunday on the OSLC Facebook page (found here) from either OSLC or Balsamlund at 10:00am, with prayer, scripture, a message, and communion. There are a couple different ways to gather elements for communion

You can call Dawn at the OSLC office and schedule a time during the week prior to pick up individual communion cups for your household. Then simply bring them out during your morning worship.
You can make communion bread at your house using the recipe we use at church found midway down this page: https://inside.luthersem.edu/community-care/chapel/

You can also grab wine or grape juice – it doesn't need to be fancy at all.

Our Synod has also put together a Holy Home Communion booklet for those who are uncomfortable with participating or unable to participate in virtual communion online. That can be found here.

We will not meet for our Sunday School or Confirmation classes through the month of November. As we see what cases are doing and what our schools plan on doing, we'll make a plan for the month of December.
Other facets of worship have shifted a bit, but the same God is still worshipped.
​In these days ahead, may God bless and keep you. May God calm your fears and strengthen your joy. May God remind you of the goodness of each and every day. Grace has brought us safe thus far, and God's grace will continue to lead us.
Grace + Peace to you,
Pastor Eric and the OSLC Council
Everyone is Welcome!
SHARE | INVITE | WORSHIP

Wherever you are or wherever you've been, you are welcome here!
You don't need to have all the answers. You don't need to be perfect. Just come as you are.
We are an open community committed to welcoming all into a growing relationship with Jesus Christ.
Learn more about OSLC here!
Join us for Worship:
We worship at 401 2nd St. SE in Sebeka, MN