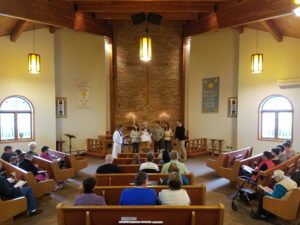 October 4, 2020
Worship During COVID-19
Hey everyone!
We have resumed in-person worship indoors and ask that you follow the guidelines we have set up.
Keep 6 feet of distance between you and people with whom you do not share contact outside of church.
In adherence to Governor Walz's Executive Order 20-81, we are asking everyone who enters to wear a mask. If you can't wear a mask, at this time, we're asking you to join us for worship through our Facebook Live broadcast at 10:00am every Sunday here.
Other facets of worship have shifted a bit, but the same God is still worshipped.
​In these days ahead, may God bless and keep you. May God calm your fears and strengthen your joy. May God remind you of the goodness of each and every day. Grace has brought us safe thus far, and God's grace will continue to lead us.
Grace + Peace to you,
Pastor Eric and the OSLC Council
Everyone is Welcome!
SHARE | INVITE | WORSHIP

Wherever you are or wherever you've been, you are welcome here!
You don't need to have all the answers. You don't need to be perfect. Just come as you are.
We are an open community committed to welcoming all into a growing relationship with Jesus Christ.
Learn more about OSLC here!
Join us for Worship:
We worship at 401 2nd St. SE in Sebeka, MN